A bit about Jan…..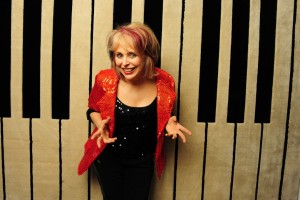 Jan Preston is known as Australasia's Queen of boogie piano, and her latest CD release  bears testament to that. She is a magnetic live performer and astonishing piano player with a rich,  resonant voice. Her original songs, compositions and mastery of boogie-woogie captivate audiences at festivals and in concerts around the world.   Winner of 5 music awards, Jan writes music for film and TV, such as her  sister Dame Gaylene Preston's film My Year with Helen. From her  background in classical music Jan has created her own style, not only through her piano playing, but also her singing and songwriting, which now sees her shine as a truly Antipodean original.
Her latest CD PLAY IT AGAIN JAN contains 13 tracks, mostly original, ranging from boogiewoogie piano (Gold Coast Boogie, Blues and the Boogie, Pumpin Paul), poignant songs (The Sun Shines, Your Own Life), as well as humour (Queen of Cash, Scared of the Dark).
"I'm thrilled with this CD; it's definitely my best!"
https://www.elsewhere.co.nz/jazz/8828/jan-preston-play-it-again-jan-janprestoncom/
https://www.facebook.com/sevensharp/videos/2383259598568771/     Jan Preston Trio ( Boogie Circus )  tvnz seven sharp March 2019
The latest show…..
In her show  88 Pianos i have known, pianist extraordinaire  JAN PRESTON,  together with her band, shares with us her passion for pianos.  Projected images combine with unforgettable biographical stories, original  songs and piano trio music, as well as new songs (Same Sky, Olds on the Loose) and a new killer version of a tune called Nutrocker, based on Tchaikovsky's Nutcracker Suite played in fast boogie style.
"I've been practising this a lot and my left hand is threatening to seize…….well hopefully not until the end of the tour!" .
 Underpinned by Jan's thrilling virtuosity (together with her  trio) audiences will be tapping and clapping, and may leave never looking at a piano in quite the same way again!
In Jan's own words…..
I was born in Greymouth on the remote West Coast of the South Island of NZ. Our family had little resources or opportunity, but I grew up in an era where people would gather around the piano and sing together. From when I was very young I played piano while everybody sang along or played tea chest basses, eggbeaters, combs, violins, even an old saxophone.
I had an Auntie who played honky tonk style, and I heard Winifred Atwell along with early rock n roll on our old Columbus Radio in the kitchen.
Playing piano from the moment I could reach the keys, and being spurred on by my older sister and brother who both played, I studied classical very seriously. I became a star student, passing all my grades with distinction and gaining a very prestigious place (one of 4 students from the whole of NZ) to study a 5 year classical piano degree at Auckland University.
Although I loved classical music, by the end of the degree I wasn't happy to be a concert pianist or, more likely, a piano teacher.
So I cut off my hair, and moved to Wellington where I experimented with different styles of music, working in an independent theatre group and then rock bands.
In 1980 my band, "Coup D'Etat" had a No. 1 hit with the song "Doctor I Like Your Medicine", after which I moved across the Tasman to Sydney, playing in bands and piano bars as well as writing music for films.
It was some years later before I found my own voice, as a boogie piano player and songwriter.
So here I am, still resident in Sydney, but constantly touring to play festivals, concerts and shows around the world, (even a recent trip to China), and I am grateful for the success and musical path I have found.
I am still enormously passionate about music and have so much more to play, sing and write!
Reviews….
One woman, a piano and a whole lot of talent.                                                                                                        3 Weeks Edinburgh
From boogie woogie to ragtime the air pulsates with the magical rhythms she produces….a forceful presence and a huge performance energy.                                                                                                          ChCh Star NZ
One of the best pianists of our time, Preston masters the piano like a maestro juggling the keys. Her voice is suave and sensual, with finesse and sensibility.                                                                       Crossroads France
Australia's finest female blues talent.                                                                                                                   Drum Media Sydney
This New Zealander is a discovery for friends of excellent boogie based music.                                                           Blues News Germany
Jan Preston is a crusader of the keys…she carries the torch for the piano culture.                         Melbourne Age
She sings with a delivery which speaks of empowerment and hope….she's got the blues in her heart, mardi gras in her fingers, and a Trans-Tasman attitude in her songs.                                            Rhythms Magazine Australia
At the piano she is queen.                                                                                                                                   ChCh Press NZ
Technically strong, full of character, dripping with life.                                                                       American Blues Review
More information resources….
https://www.audioculture.co.nz/people/jan-preston
https://www.facebook.com/janboogiewoogiepreston
https://www.odt.co.nz/entertainment/music/passion-pianos
https://www.youtube.com/watch?time_continue=161&v=o863wTWYnBU  TVNZ Paul Henry Breakfast
https://open.spotify.com/album/4F6QQvqUurmMyPf2hCAFrP    Jan's latest album Play It Again Jan on Spotify
For even more details….
NZ tour interviews and contact : Simon Vare Yellow Eye Ltd, Dunedin  ph 0064 274403058  sieye@xtra.co,nz